Coillte Deal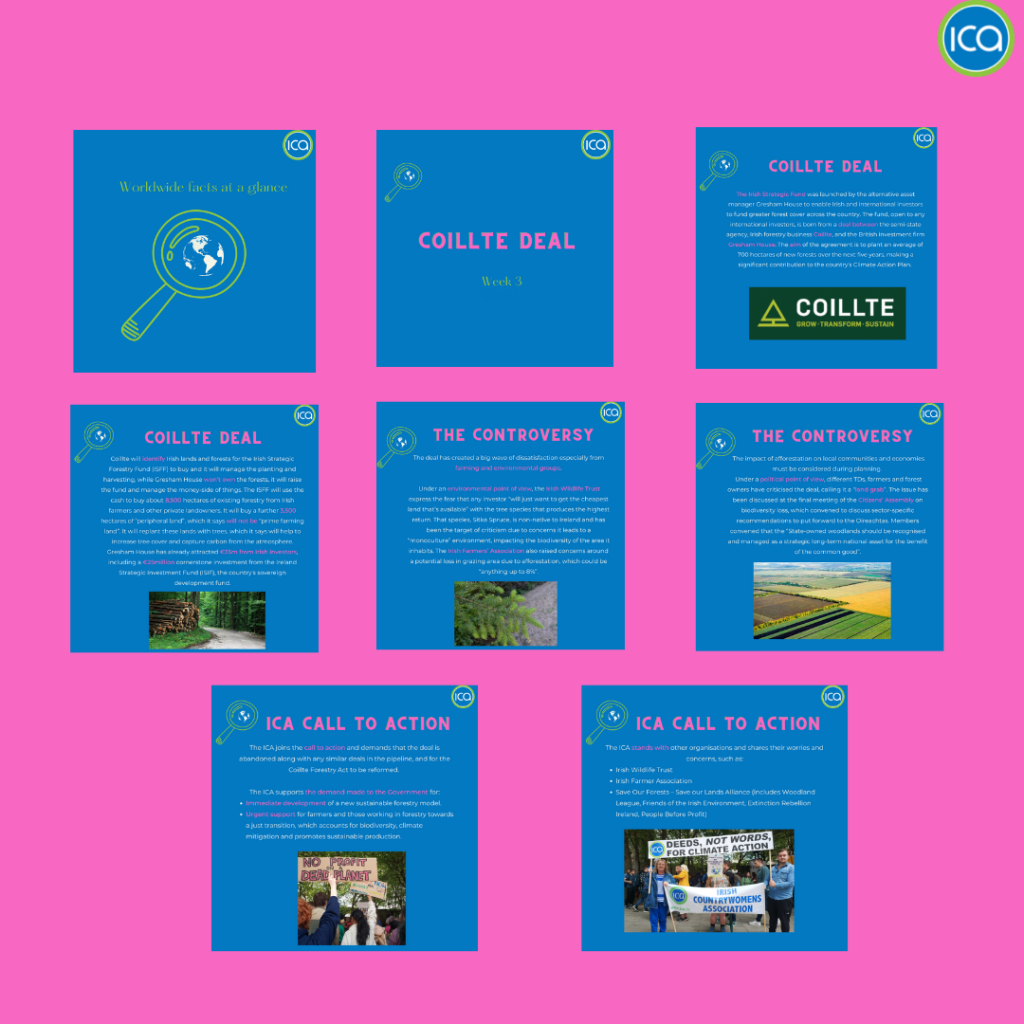 The Irish Strategic Fund
The Irish Strategic Fund was launched by the alternative asset manager Gresham House to enable Irish and international investors to fund greater forest cover across the country. The fund, open to any international investors, is born from a deal between the semi-state agency, Irish forestry business Coillte, and the British investment firm Gresham House. The aim of the agreement is to plant an average of 700 hectares of new forests over the next five years, makinga significant contribution to the country's Climate Action Plan. Coillte will identify Irish lands and forests for the Irish Strategic Forestry Fund (ISFF) to buy and it will manage the planting and harvesting, while Gresham House won't own the forests, it will raise the fund and manage the money-side of things. The ISFF will use the cash to buy about 8,500 hectares of existing forestry from Irish farmers and other private landowners. It will buy a further 3,500 hectares of "peripheral land", which it says will not be "prime farming land". It will replant these lands with trees, which it says will help to increase tree cover and capture carbon from the atmosphere. Gresham House has already attracted €35m from Irish investors, including a €25million cornerstone investment from the Ireland Strategic Investment Fund (ISIF), the country's sovereign development fund.

The controversy:
The deal has created a big wave of dissatisfaction especially from farming and environmental groups.

Under an environmental point of view, the Irish Wildlife Trust express the fear that any investor "will just want to get the cheapest land that's available" with the tree species that produces the highest return. That species, Sitka Spruce, is non-native to Ireland and has been the target of criticism due to concerns it leads to a "monoculture" environment, impacting the biodiversity of the area it inhabits. The Irish Farmers' Association also raised concerns around a potential loss in grazing area due to afforestation, which could be "anything up to 8%". The impact of afforestation on local communities and economies must be considered during planning.

Under a political point of view, different TDs, farmers and forest owners have criticised the deal, calling it a "land grab". The issue has been discussed at the final meeting of the Citizens' Assembly on biodiversity loss, which convened to discuss sector-specific recommendations to put forward to the Oireachtas. Members convened that the "State-owned woodlands should be recognised and managed as a strategic long-term national asset for the benefit of the common good".

Call to action
The ICA joins the call to action and demands that the deal is abandoned along with any similar deals in the pipeline, and for the Coillte Forestry Act to be reformed.
The ICA supports the demand made to the Government for:
Immediate development of a new sustainable forestry model.
Urgent support for farmers and those working in forestry towards a just transition, which accounts for biodiversity, climate mitigation and promotes sustainable production.
The ICA stands with other organisations and shares their worries and concerns, such as:
– Irish Wildlife Trust
– Irish Farmer Association
– Save Our Forests – Save our Lands Alliance (includes Woodland League, Friends of the Irish Environment, Extinction Rebellion Ireland, People Before Profit)