Woman. Life. Freedom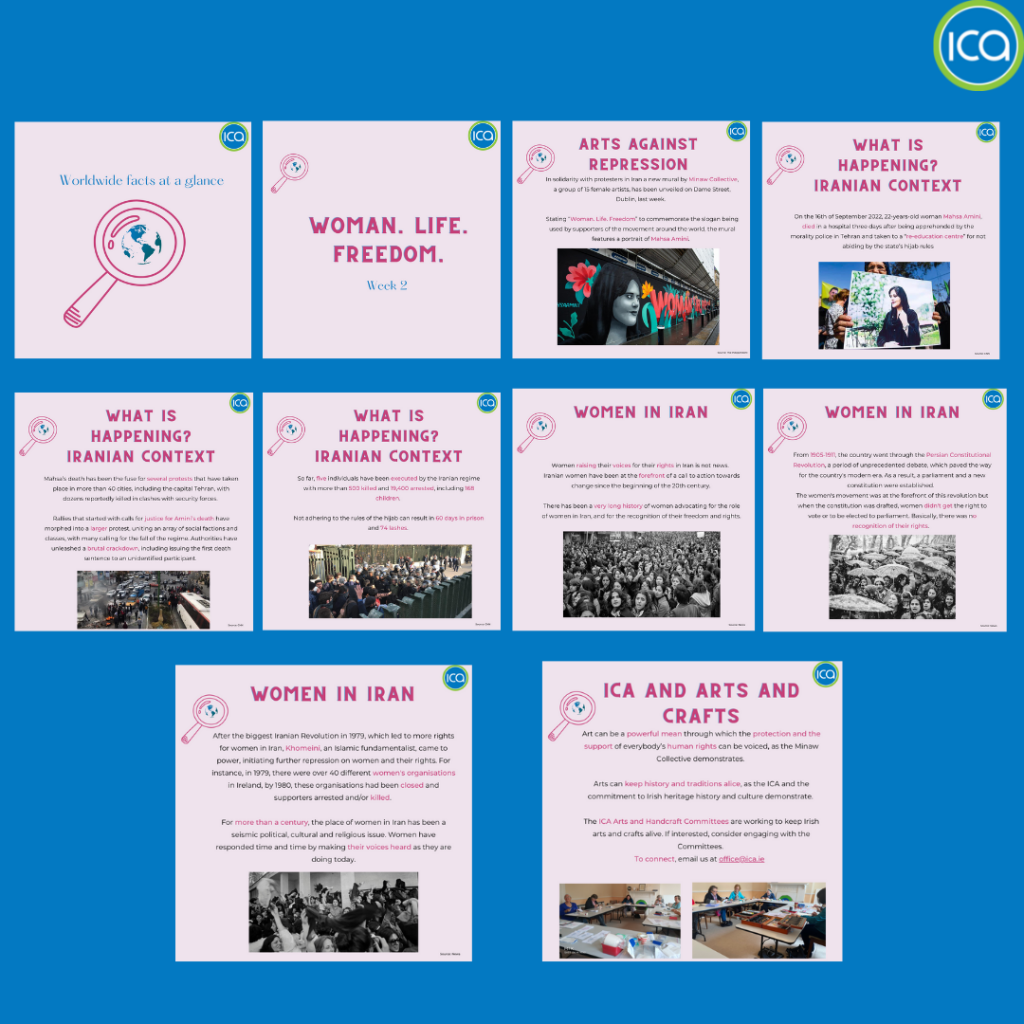 Worldwide facts at a glance – Woman. Life. Freedom
Week 2 of our new feature "Worldwide facts at a glance".  
 
Today we highlight the events unfolding Iran and supported by a beautiful initiative accomplished by 15 female artists, who painted a powerful mural in Dublin last week against the brutal repression of women carried out by the Iranian Government. Here are the facts: 
 
Arts against repression 
In solidarity with protesters in Iran a new mural by Minaw Collective, a group of 15 female artists, has been unveiled on Dame Street, Dublin, last week.  

Stating "Woman. Life. Freedom" to commemorate the slogan being used by supporters of the movement around the world, the mural features a portrait of Mahsa Amini.  

What is Happening? Iranian context 
On the 16th of September 2022, 22-years-old woman Mahsa Amini, died in a hospital three days after being apprehended by the morality police in Tehran and taken to a "re-education centre" for not abiding by the state's hijab rules.  

Mahsa's death has been the fuse for several protests that have taken place in more than 40 cities, including the capital Tehran, with dozens reportedly killed in clashes with security forces. Rallies that started with calls for justice for Amini's death have morphed into a larger protest, uniting an array of social factions and classes, with many calling for the fall of the regime. Authorities have unleashed a brutal crackdown, including issuing the first death sentence to an unidentified participant. 
 
So far, five individuals have been executed by the Iranian regime with more than 500 killed and 19,400 arrested, including 168 children. Not adhering to the rules of the hijab can result in 60 days in prison and 74 lashes. 
Women in Iran 
Women raising their voices for their rights in Iran is not news.  
Iranian women have been at the forefront of a call to action towards change since the beginning of the 20th century. There has been a very long history of women advocating for the role of women in Iran, and for the recognition of their freedom and rights. 

From 1905-1911, the country went through the Persian Constitutional Revolution, a period of unprecedented debate, which paved the way for the country's modern era. As a result, a parliament and a new constitution were established.  

The women's movement was at the forefront of this revolution but when the constitution was drafted, women didn't get the right to vote or to be elected to parliament. Basically, there was no recognition of their rights.  

After the biggest Iranian Revolution in 1979, which led to more rights for women in Iran, Khomeini, an Islamic fundamentalist, came to power, initiating further repression on women and their rights. For instance, in 1979, there were over 40 different women's organisations in Ireland, by 1980, these organisations had been closed and supporters arrested and/or killed. 

For more than a century, the place of women in Iran has been a seismic political, cultural and religious issue. Women have responded time and time by making their voices heard as they are doing nowadays. 
ICA and Arts  
Art can be a powerful mean through which voice the protection and the support of everybody's human rights, as the Minaw Collective demonstrate. 

Arts can keep alive history and traditions, as the ICA and the commitment to Irish heritage history and culture demonstrate. 

The ICA Arts Committee and Handcrafts Committee are working to keep Irish arts and crafts alive. If interested, consider engaging with the Committees. To connect, email us at office@ica.ie