Solidarity Marches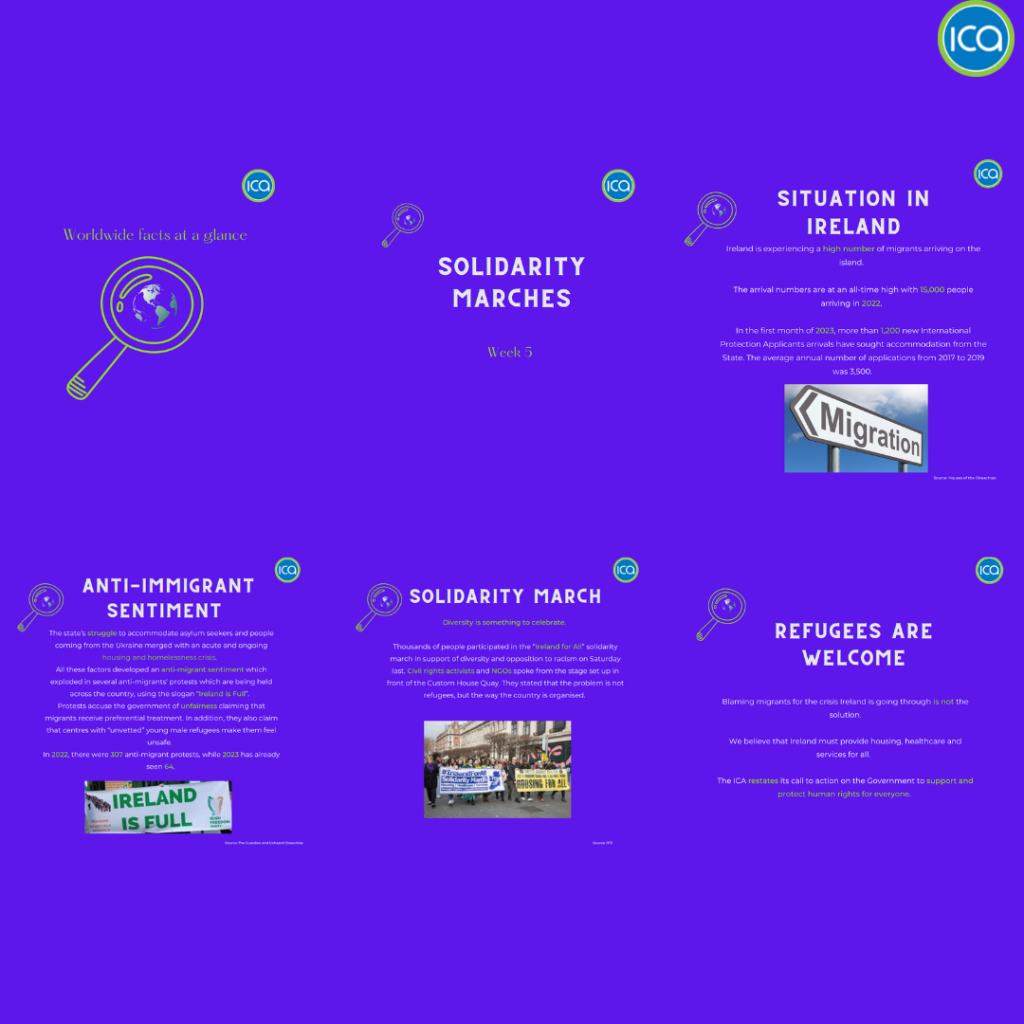 📢In recent weeks, Ireland has witnessed an increase in organised marches related to the situation arising from the allocation of housing to migrants: marches have taken place both opposing and welcoming migrants arriving in Ireland.
👇Let's together have a quick look on what is going on.

Situation in Ireland 
Ireland is experiencing a high number of migrants arriving on the island.  
The arrival numbers are at an all-time high with 15,000 people arriving in 2022.  

In the first month of 2023, more than 1,200 new International Protection Applicants arrivals have sought accommodation from the State. The average annual number of applications from 2017 to 2019 was 3,500. 
Anti-immigrant sentiment  
The state's struggle to accommodate asylum seekers and people coming from the Ukraine merged with an acute and ongoing housing and homelessness crisis.  

All these factors developed an anti-migrant sentiment which exploded in several anti-migrants' protests which are being held across the country, using the slogan "Ireland is Full".  

Protests accuse the government of unfairness claiming that migrants receive preferential treatment. In addition, they also claim that centres with "unvetted" young male refugees make them feel unsafe.  
In 2022, there were 307 anti-migrant protests, while 2023 has already seen 64.  
Solidarity March 
Diversity is something to celebrate.

Thousands of people participated in the "Ireland for All" solidarity march in support of diversity and opposition to racism on Saturday last. Civil rights activists and NGOs spoke from the stage set up in front of the Custom House Quay. They stated that the problem is not refugees, but the way the country is organised. 
Refugees are welcome 
Blaming migrants for the crisis Ireland is going through is not the solution. We believe that Ireland must provide housing, healthcare and services for all.

The ICA restates its call to action on the Government to support and protect human rights for everyone.