The Russian Invasion of Ukraine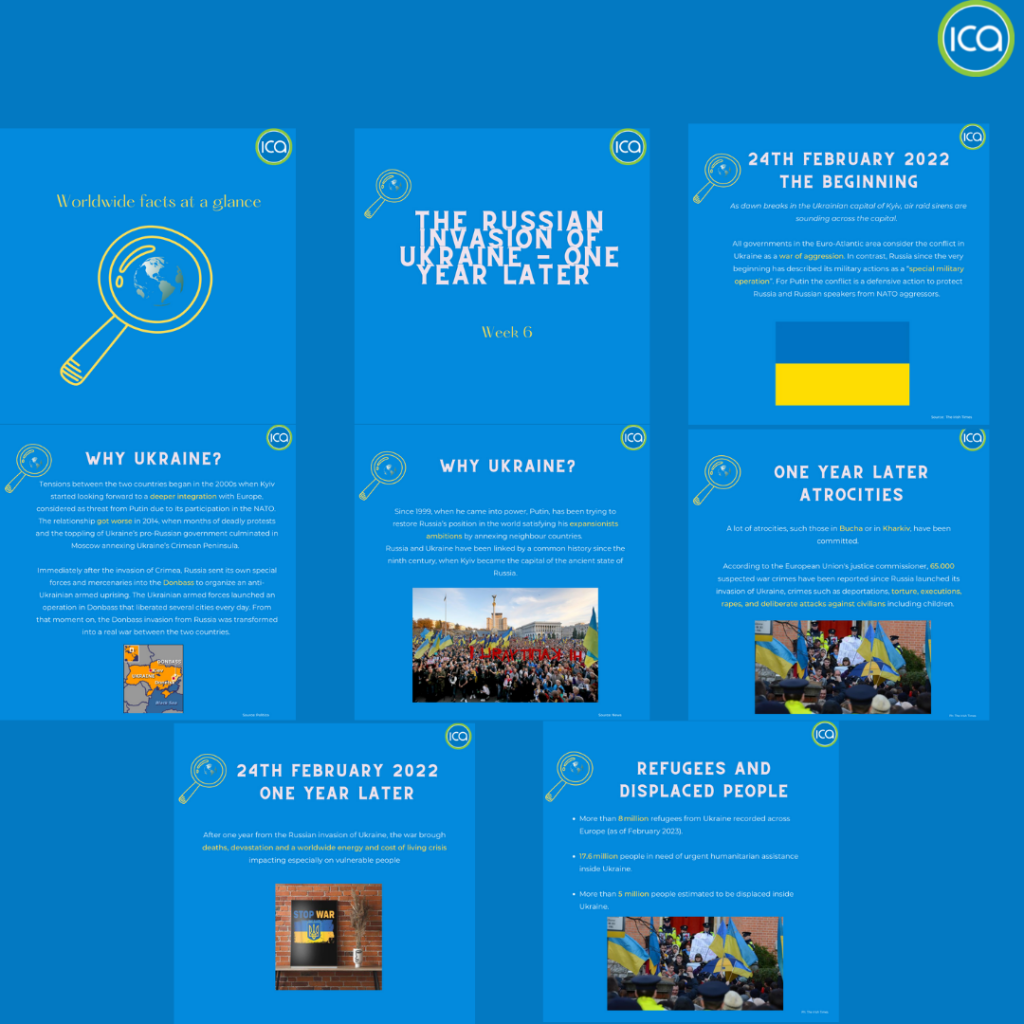 24th of February marked one year since the Russian invasion of Ukraine. ICA stands with the Ukrainian people since the very beginning of this war, but what happened in one year?  
24th February 2022 – the beginning 
As dawn breaks in the Ukrainian capital of Kyiv, air raid sirens are sounding across the capital.  

All governments in the Euro-Atlantic area consider the conflict in Ukraine as a war of aggression. In contrast, Russia since the very beginning has described its military actions as a "special military operation". For Putin the conflict is a defensive action to protect Russia and Russian speakers from NATO aggressors.  
Why Ukraine?  
Since 1999, when he came into power, Putin, has been trying to restore Russia's position in the world satisfying his expansionists ambitions by annexing neighbour countries. 

Russia and Ukraine have been linked by a common history since the ninth century, when Kyiv became the capital of the ancient state of Russia.  
 
Tensions between the two countries began in the 2000s when Kyiv started looking forward to a deeper integration with Europe, considered as threat from Putin due to its participation in the NATO. 

The relationship got worse in 2014, when months of deadly protests and the toppling of Ukraine's pro-Russian government culminated in Moscow annexing Ukraine's Crimean Peninsula.  
 
Immediately after the invasion of Crimea, Russia sent its own special forces and mercenaries into the Donbass to organize an anti-Ukrainian armed uprising. The Ukrainian armed forces launched an operation in Donbass that liberated several cities every day. From that moment on, the Donbass invasion from Russia was transformed into a real war between the two countries.

24th February 2023 – a year later 
After one year from the Russian invasion of Ukraine, the war brough deaths, devastation and a worldwide energy and cost of living crisis impacting especially on vulnerable people. 
One Year Later- Atrocities 
A lot of atrocities, such those in Bucha or in Kharkiv, have been committed. 
According to the European Union's justice commissioner, 65,000 suspected war crimes have been reported since Russia launched its invasion of Ukraine, crimes such as deportations, torture, executions, rapes, and deliberate attacks against civilians including children. 
24th February 2023 – Refugees and displaced people 
The war also produced an extreme elevate number of refugees and displaced people.