St. Patrick's Day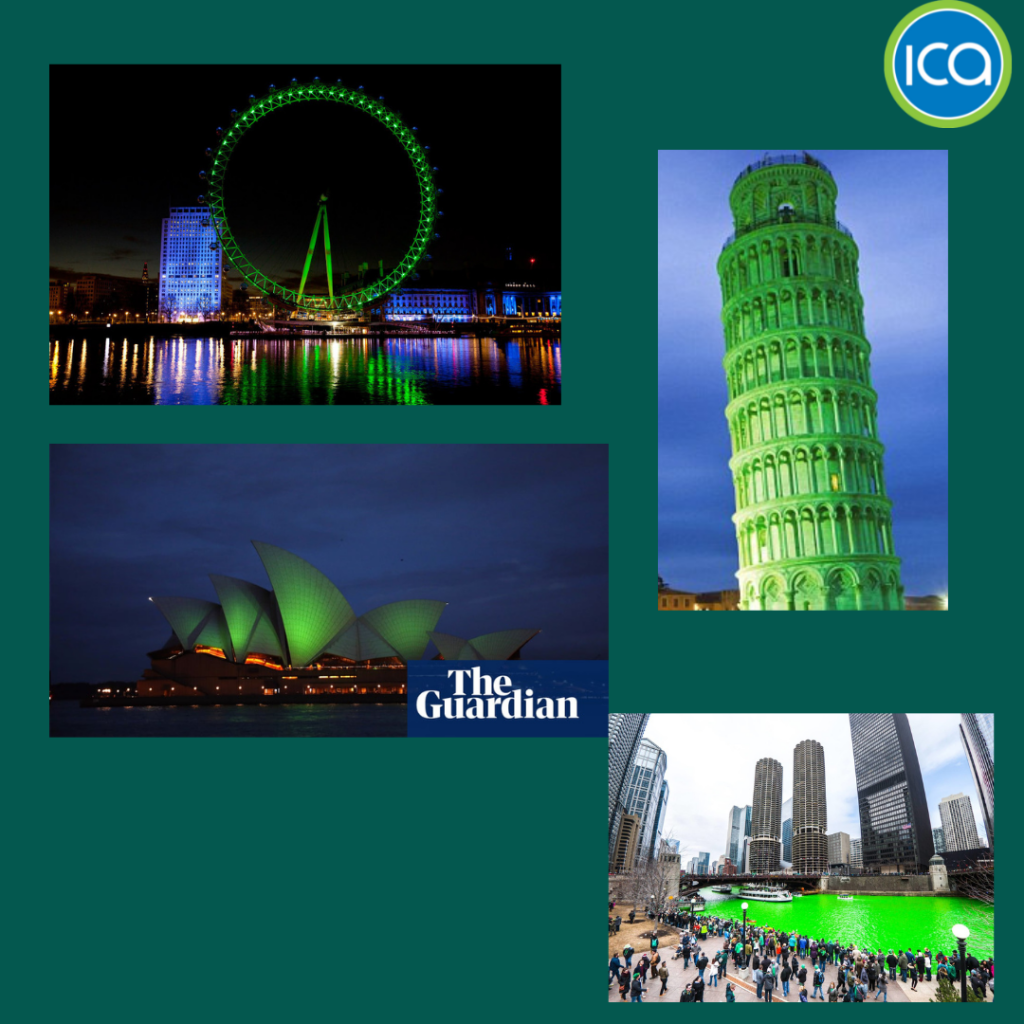 ☘We are back with our weekly feature just in time to wish you all a Happy St. Patrick's Day!
🎉We want to celebrate together by sharing some information and facts about Ireland's Patron Saint., St. Patrick.
About St. Patrick's Day. 
St. Patrick's Day is a cultural and religious holiday held annually on March 17th. Named after the Patron Saint of Ireland, Saint Patrick, this day is extremely important as it celebrates Irish heritage and culture. 
Who was St. Patrick? 
St. Patrick is the Patron Saint of Ireland and is celebrated for bringing Christianity to the country. 
It is thought St. Patrick grew up in Britain, during Roman Times. He was kidnapped and taken to Ireland as a slave.

When he regained his freedom, he became a priest, returned to Ireland to convert thousands of people to Christianity. St. Patrick was appointed as successor to St. Palladius, the first Bishop of Ireland, sometime after 431 AD. 

St. Patrick all over the world 
St. Patrick's Day started as a religious feast, but it has transformed into an international festival celebrating the Irish culture. People take part in parades and dancing, eat Irish food, and enjoy huge firework displays. The day is also famous around the world for people wearing shamrocks, dressing up as leprechauns, and wearing green head to toe.

St. Patrick's Day Parade take place across the country, with Dublin's famous St Patrick's Parade often featuring international bands and themes.  
 
Different cities often colour their main monuments in green to celebrate St. Patrick's Day.  

Unfortunately, due to the ongoing energy crisis Tourism Ireland has confirmed that the Global Greening of well-known international landmarks for St Patrick's Day will not go ahead this year

In the view of some scholars, the colour green is associated with Ireland and St. Patrick's Day since the Irish Rebellion in 1798. During the Rebellion, the Irish soldiers decided to wear green because it was the colour that most contrasted the red British uniforms.  

Before then, Ireland was known for the colour blue since it featured prominently in the royal court and on ancient Irish flags. 
ICA and St. Patrick's Day
ICA is built on over 110 years of nurturing the Irish Culture and it ensures the preservation of traditions and heritage through teaching and practicing.   
This important work is supported by the National Committee Coiste na Gaeilge , which has the aim of nurturing Irish culture and encouraging the use of the Irish language in the affairs of Bantracht na Tuaithe.   
 To engage and support the work of the committee, please get in touch to office@ica.ie or 01 668 0002.