The Good Friday Agreement – 25 years later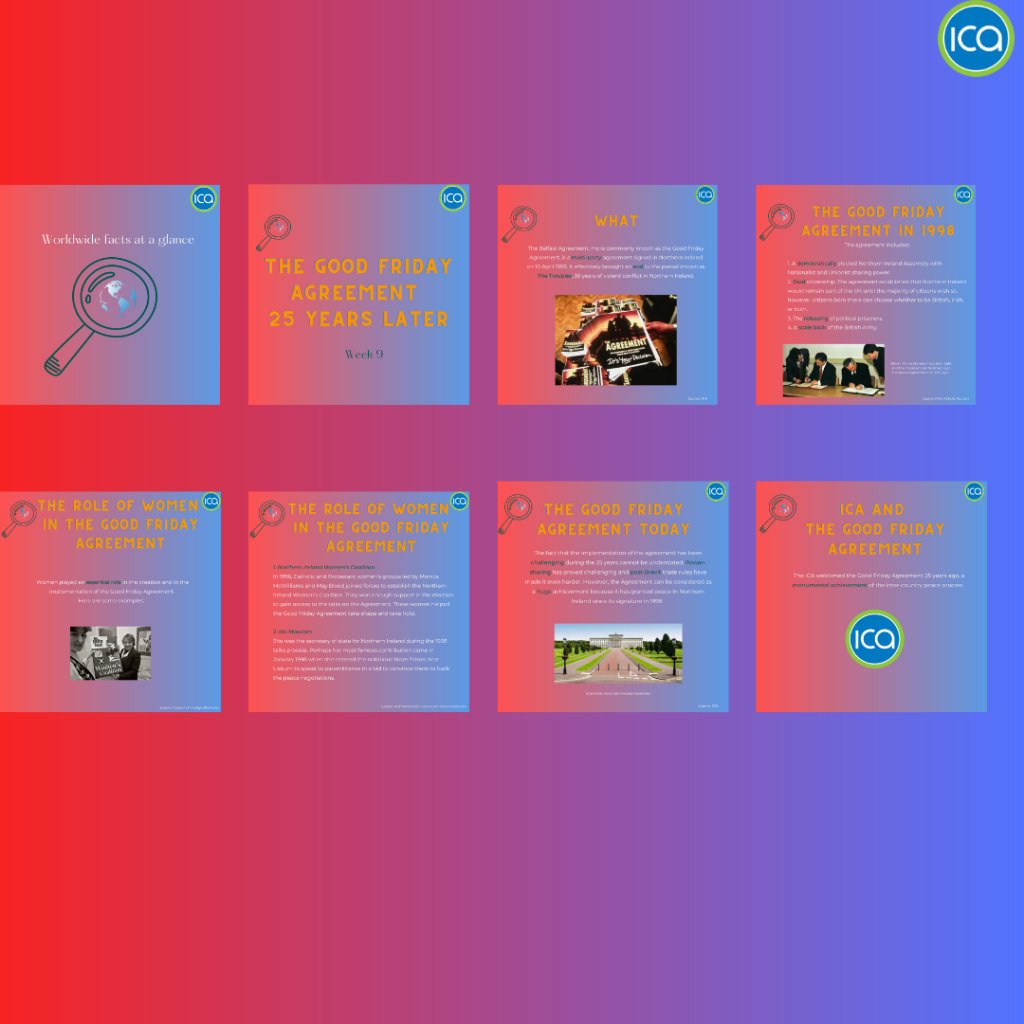 10th of April 2023 marked the 25th anniversary of the Good Friday Agreement, a political agreement that shaped the future of Northern Ireland, and it is important to understand why.
What 
The Belfast Agreement, more commonly known as the Good Friday Agreement, is a multi-party agreement signed in Northern Ireland on 10 April 1998. It effectively brought an end to the period known as The Troubles, 30 years of violent conflict in Northern Ireland. 
The Good Friday Agreement in 1998 
The agreement included:   
1. A democratically elected Northern Ireland Assembly with Nationalist and Unionist sharing power. 
2. Dual citizenship. The agreement established that Northern Ireland would remain part of the UK until the majority of citizens wish so, however, citizens born there can choose whether to be British, Irish, or both. 
3. The releasing of political prisoners. 
4. A scale back of the British Army.
The role of women in The Good Friday Agreement 
Women played an essential role in the creation and in the implementation of the Good Friday Agreement. Here are some examples: 
 
1. Northern Ireland Women's Coalition 
In 1996, Catholic and Protestant women's groups led by Monica McWilliams and May Blood joined forces to establish the Northern Ireland Women's Coalition. They won enough support in the election to gain access to the talks on the Agreement. These women helped the Good Friday Agreement take shape and take hold. 
 
2. Mo Mowlam  
She was the secretary of state for Northern Ireland during the 1998 talks process. Perhaps her most famous contribution came in January 1998 when she entered the notorious Maze Prison near Lisburn to speak to paramilitaries in a bid to convince them to back the peace negotiations. 
The Good Friday Agreement Today 
The fact that the implementation of the agreement has been challenging during the 25 years cannot be understated. Power-sharing has proved challenging and post-Brexit trade rules have made it even harder. However, the Agreement can be considered as a huge achievement because it has granted peace in Northern Ireland since its signature in 1998. 
ICA and the Good Friday Agreement 
The ICA welcomed the Good Friday Agreement 25 years ago, a monumental achievement of the inter-country peace process.