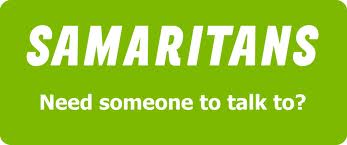 About the Samaritans
The Samaritans are a charity that provide non-judgemental, fully confidental support to those who are feeling low, struggling and need someone to talk to. They are best known for their work to reduce suicide but they are there for anyone who is feeling down. No problem is too big or too small.
'Lonliness, bereavement, job loss, exam stress, financial worries, family problems or simply a feeling of being unable to go on – whatever you are dealing with – you don't have to deal with it alone.'
They also work in schools, prisons and workplaces as well as in festivals and concerts where they provide on-site emotional support.
The Samaritans were formed 50 years ago in Ireland and now have 2000 volunteers.
Goals of the Samaritans
Their mission is to help those who are distresses and reduce the incidence of suicidal feelings and behaviour. They do this by
Being Available: 24 hours, everyday of the year.
Reaching out to high risk groups.
Working with other organisations and agencies.
Raising awareness of challenges of reducing suicide.
The Samaritans are committed to certain values including:
Listening – exploring feelings helps reduce stress and helps people reach a better understanding of their situation.
Confidentiality – when people feel safe they are more likely to be open about their feelings.
Non-judgemental – people can talk to the Samaritans without feeling rejected.
Human Contact – reduces stress and despair by giving people attention and time.
People make their own decisions – people have the right to find their own solutions instead of being forced into what to do.
ICA and the Samaritans
The ICA support the Samaritans by helping to raise awareness about suicide and the importance of reaching out when you need it. They have trained their regional presidents in effective listening skills.
Supporting the Samaritans
You can volunteer with the Samaritans by fundraising, donating or volunteering. For further information go to www.samaritans.ie
Would it help to talk?
Open 24hours a day, every day of the year.
Phone: 1850 60 90 90
Text: 0872 60 90 90
Email: jo@samaritans.org
Website: www.samaritans.ie
Face to face: check the website for the opening times of the different branches. Branches are found in Athlone, Cork, Dublin, Drogheda, Clare, Galway, Kilkenny, Limerick, Kildare, Sligo, Kerry, Waterford. There is also a festival branch on site of festivals, concerts and events around Ireland.