What is the situation in Sudan?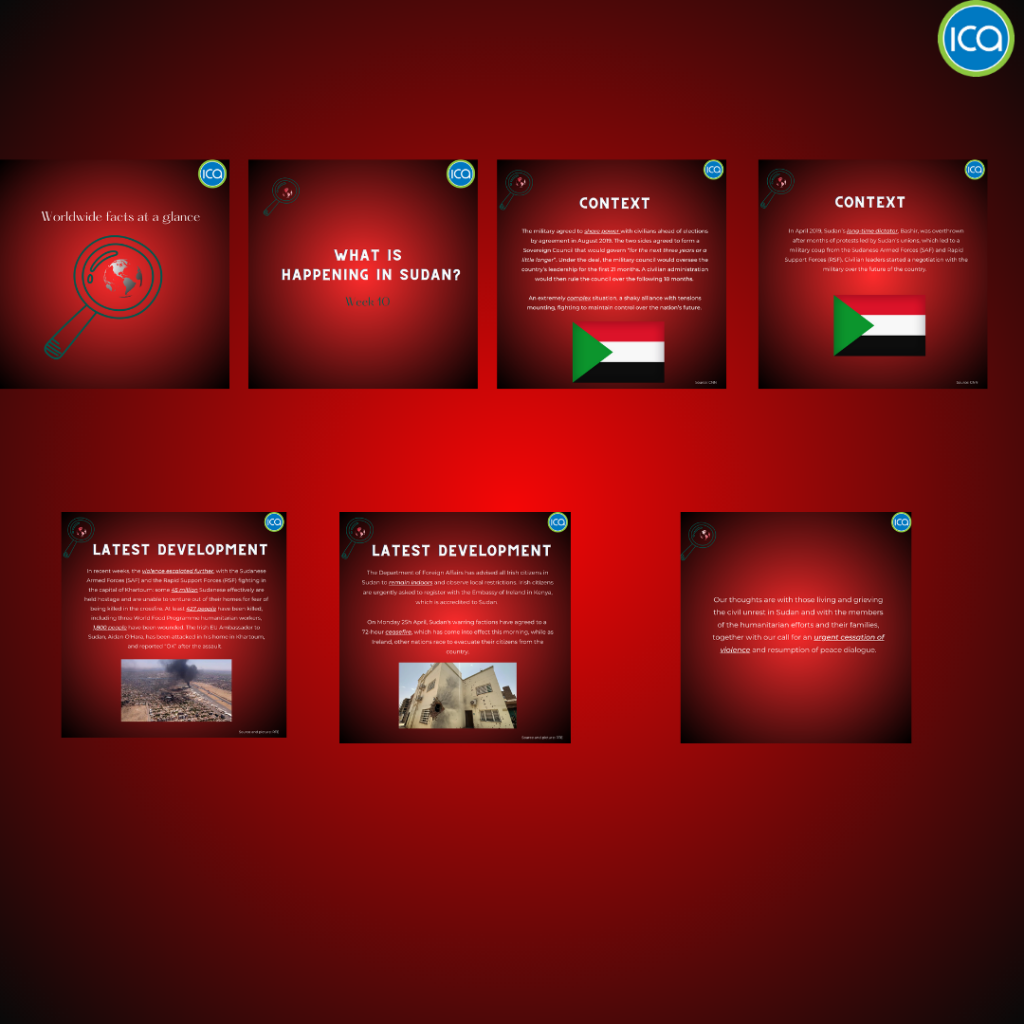 On Saturday 16th April 2023, Sudanese military forces started fighting each other causing deaths and injuries. The Irish EU Ambassador to Sudan, Aidan O'Hara, was attacked in his home in Khartoum, as fighting between rival generals gripped the nation. With this episode of Worldwide facts at a glance, we summarise the Sudanese situation from 2019 to today.  
Context 
In April 2019, Sudan's long-time dictator, Bashir, was overthrown after months of protests led by Sudan's unions, which led to a military coup from the Sudanese Armed Forces (SAF) and Rapid Support Forces (RSF). Civilian leaders started a negotiation with the military over the future of the country.  

The military agreed to share power with civilians ahead of elections by agreement in August 2019. The two sides agreed to form a Sovereign Council that would govern "for the next three years or a little longer". Under the deal, the military council would oversee the country's leadership for the first 21 months. A civilian administration would then rule the council over the following 18 months. 

An extremely complex situation, a shaky alliance with tensions mounting, fighting to maintain control over the nation's future. 
Latest developments 
In recent weeks, the violence escalated further, with the Sudanese Armed Forces (SAF) and the Rapid Support Forces (RSF) fighting in the capital of Khartoum: some 45 million Sudanese effectively are held hostage and are unable to venture out of their homes for fear of being killed in the crossfire. At least 427 people have been killed, including three World Food Programme humanitarian workers, 1,800 people have been wounded. The Irish EU Ambassador to Sudan, Aidan O'Hara, has been attacked in his home in Khartoum, and reported "OK" after the assault.  
 
The Department of Foreign Affairs has advised all Irish citizens in Sudan to remain indoors and observe local restrictions. Irish citizens are urgently asked to register with the Embassy of Ireland in Kenya, which is accredited to Sudan. 


On Monday 25h April, Sudan's warring factions have agreed to a 72-hour ceasefire, which has come into effect this morning, while as Ireland, other nations race to evacuate their citizens from the country.
Our thoughts are with those living and grieving the civil unrest in Sudan and with the members of the humanitarian efforts and their families, together with our call for an urgent cessation of violence and resumption of peace dialogue.